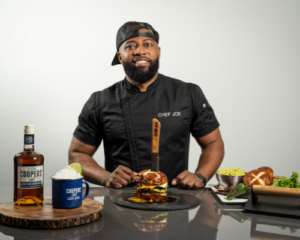 Foodies for Life
Chef Joe and Bartender Alexandria Ortiz
For the last decade Chef Joe has been cooking up creative and delicious dishes across the country. Born and raised in New York City, Chef Joe was exposed to diverse cuisines and restaurants from around the world! These experiences are what helped him develop an interest and passion for cooking. Like most chef's Chef Joe took time to build his craft within restaurant staples, but in a short amount of time management realized that he has a knack of knowing how to present and order dishes in a way that would enhance their flavor. Customers commented on how much the quality and taste of the food overall had improved and introduced the now answered question of….Can you come cook for my next event?
Often compared to the fictional character Olivia Pope played by Kerry Washington on televisions hit show Scandal, Alexandria continues to build a name for herself as Atlanta's own "fixer". After spending 10+ years in law firms as a negotiator and executive administrator, and nights as a bartender and event planner in Atlanta's fine dining scene, Alexandria seemingly brought both of her very different worlds to one very crafty business
At Alexandria Ortiz Consults, Ortiz and her team cater to high profile clientele and corporations alike in all areas of hospitality. "As a consultant the only thing I expect you to have is a problem, I'll handle the rest," exclaimed Ortiz. Her expertise in negotiations and event design allowed her to start a firm that has a thriving Rolodex of Atlanta's best vendors that all drop their plans to work with her team. From small events to large corporate affairs, to single business meeting prep to billion dollar acquisition negotiations, her plans for her clients don't seem to have a ceiling.
Grand Slam Burger Recipe:
Lamb bison burger with smoked goat cheese, guacamole, Coopers Craft, double smoked jalapeño bacon, sautéed red onions onions, fried egg on a toasted Pretzel bun
Champions Cup Cocktail Recipe:
82.2 proof, crushed iced, ginger beer, lime garnish