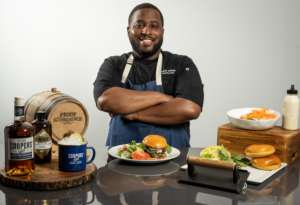 Sincere Fare
Chef Josh Swinney and Bartender Rob Thorton
Joshua Swinney is the Food Creative at Sincère Fare. Chef Josh curates fresh seasonal dishes to evoke memorable food experiences. From comfort fusion to fine dining, Josh develops unique flavor profiles with varied ingredients to create his dishes. Chef Josh's passion for food was ignited at a young age while watching Emeril Live! He couldn't believe the reactions the audience had toward the food that Emeril created and felt compelled to achieve the same response through his own cooking. He answered that call by deciding to work in local kitchens to learn the do's and don'ts of the kitchen and while doing so became fully aware that he had to pursue his dream of becoming a professional chef.
Born in Fayetteville, North Carolina, Josh made his way to the great state of Georgia in 2016. He earned his Associates Degree in Culinary Arts from the Art Institute of Charlotte in 2013 and began working various positions from high-end catering to fine dining establishments. Once he mastered the ropes, Josh transitioned into the corporate food service industry and worked his way up from Sous Chef to Executive Chef to District Support Chef. Now Chef Josh is focused on building his creative brand, and connecting people through photography & great food experiences.
Rob Thornton is a Certified Mixologist and the beverage manager at Sincère Fare. Thornton curates cocktails by utilizing fresh sustainable ingredients. He channels his experiences as a Sommelier to create these unique cocktails. Thornton fostered a love for the culinary arts and creating at a young age while participating in Home Ec and Woodworking classes. As a multifaceted creator, Thornton Jr. provides education, exposure and unique experiences to those who want to embrace all of their passions in life. Thornton received his BS and MS in Accounting. Outside of business, you can find him being a devoted plant dad, a bee keeper, traveling the world, scuba diving, taking on DIY projects and seeking adventure in outdoor activities.
The Hank Burger Recipe:
Toasted Buttered Brioche bun, Grass Feed Angus Beef & beef bacon patty, Whipped Feta & parm herb cheese, Caramelized Red onion Jam infused with Coopers Craft & Merlot, Local Spring Mix, Local Green tomatoes, Black Pepper Parmesan Aioli
Coopers' Golden Craft Recipe:
5 fresh Strawberries, dash of Lemon Bitters, dash of Juniper Berry, 1 tsp Local Honey, 2 oz Coopers' Craft, 4 Sage leaves